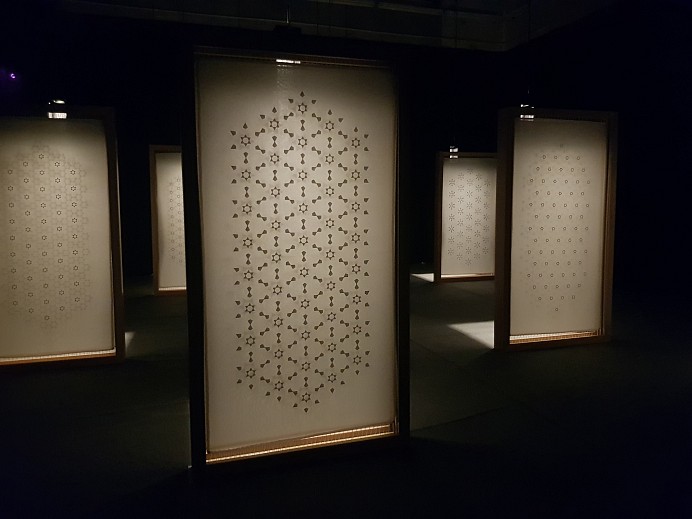 Dana Awartani turned history into mesmerizing works of art
March 2, 2018 - Mariam Nihal for Saudi Gazette
A book of poetry entitled Classical Poems by Arab Women and Mughal era inspired mesmerizing works of art by Saudi artist Dana Awartani. Torn between the era of Mughals and classical poetry, she methodically reconfigured and crafted a nostalgic series of Islamic art and 'Jali' work with artisans in India on silk panels reminiscent of the royal era. Known to reinvent classic and sacred works of the past with a contemporary style, Awartani does not disappoint in her latest work for 21,39 Jeddah Arts at Athr gallery.

Walk into an immersive installation with sounds of Saudi women reciting poetry in Arabic falling over majestic hand embroidered silk sheets in her latest exhibition titled Listen To My Words.

"What really inspired me to create this work was when I discovered this book purely dedicated to female Arab poetry throughout history. I found the words so empowering and totally radical for their time and felt it was crucial to shed light on these forgotten poetesses, not only for my audience to learn about them but to also be inspired by them as well," Awartani told Saudi Gazette.

The artist was drawn to Mughal empress Noor Jahan, who embodied resilience and strong leadership even at a time she was unable to lead from the front in a male dominated society in India. Awartani designed mashrabiyas using delicate yet rich embroidery to maintain its regality.

"It was a story I heard about one women called Noor Jahan, who was the wife of the emperor Jehangir. She was his royal advisor in a way but was never allowed to sit in the court with the men so she used to whisper in his ear through a 'Jali' screen, on how to govern the whole empire. That is what influenced the mashrabiyas I did. However I wanted to reinvent them and use embroidery rather then wood or stone, which is what they are usually made from. I collaborated with craftsman in India to have them made and the 'Aari' stitch I used actually derived from the Mughal courts.

I also find this embroidery so feminine and delicate, which I was naturally drawn to," she told Saudi Gazette.
To Read More: Saudi Gazette Link
Back to News