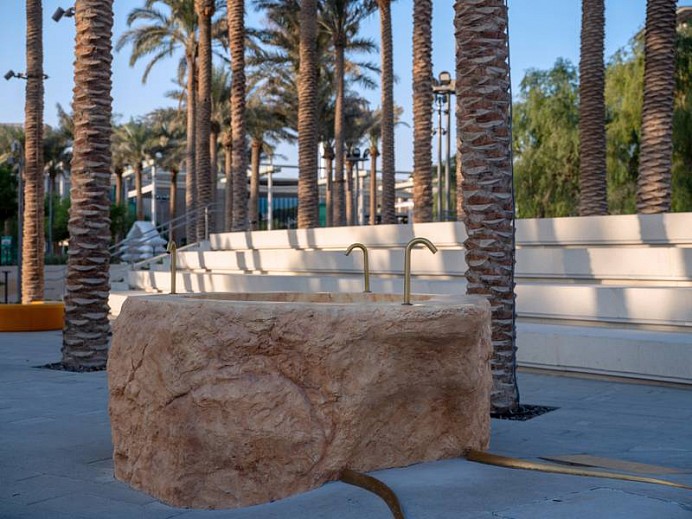 Sabeel Fountains: a creative collection of drinking spouts at Expo 2020 Dubai
November 5, 2021 - Farah Andrews for The National News
The Signature Fountains have been reproduced, with a total of 37 fountains scattered around public spaces at Expo 2020.
Water in the Green combines robust materials with plants, highlighting sustainability efforts at Expo 2020. Nahel features motifs of humankind, nature and technology connecting in harmony, illustrating Expo 2020's subthemes of Opportunity, Mobility and Sustainability.
Expo 2020 also invited two contemporary artists, Nasir Nasrallah and Dana Awartani, to create larger drinking fountains, known as Artistic Fountains. Nasrallah's Letter to Water is a love letter to the precious resource, while Awartani's The Well resembles a stone well.
"It is exciting to see our collaboration with Expo 2020 Dubai come to fruition. Alongside our exhibitions and learning programmes at Jameel Arts Centre, Dubai, Art Jameel has a commitment to supporting artists and creative communities through collaborative projects," says Antonia Carver the Art Jameel director.
"Water – and water and food futures – are embedded within our curatorial threads, shaped by a number of long-term, multiyear themes that manifest in commissions, among many other initiatives."
The Sabeel Fountains operate using hands-free sensor taps and have incorporated bottle filler taps in lieu of bubblers.
Back to News