BIOGRAPHY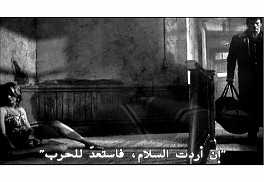 Ayman Yossri Daydban's multidisciplinary practice evolves around the deconstruction of various national narratives with the approach of a watchman or guard. This term translates into English from the artist's Arabic last name and mirrors his approach to questions about existence, identity and belonging relating to cultural heritage, national integration, the East / West global melting pot of influence and inter-dependence and the difficulties in assimilation and translation of divergent customs and traditions.
Daydban has had numerous solo exhibitions including: Give Me The Light, Athr, Jeddah [2016]. Common Grounds, Sabrina Amrani, Madrid [2014] I am Anything, I am Everything, Athr, Jeddah [2012]. Identity, Selma Ferinani, London [2011]. He launched his first public art project Change on billboards across Dubai and Sharjah during Art Dubai [2013].
His recent group shows include: Eyes East Bound, Cairo Biennale, Cairo, Egypt [2019], Out of Place, Athr Gallery, Jeddah, KSA [2019], Opening Remarks, Athr Gallery, Jeddah, KSA, The Clocks Are Striking Thirteen, Athr Gallery, Jeddah, KSA [2018], Epicenter X: Contemporary Saudi Art, Arab American National Museum, Detroit [2017]. The Language of Human Consciousness, Athr, Jeddah [2014], The Aftermath (curated by Basak Senova at Akbank), Art Center, Istanbul [2013], Hajj: Journey to the Heart of Islam, The British Museum, London [2012], Tesselation Make Up, Galerie Zilberman, Istanbul [2012], The State, Traffic Gallery, Dubai [2011],
He has showcased his work in numerous Edge of Arabia group shows including: Transition, Istanbul [2010], The Future of A Promise, Venice Biennale [2011], Terminal, Dubai [2011], We Need To Talk, Jeddah [2012] #COMETOGETHER, London [2012].
In 2016, Daydban curated and participated in a show titled Inshallah Everything Will Be Fixed, a group exhibition at Satellite, in Alserkal Dubai, which featured artists experimenting with the destruction of their work before presenting the remains to the visitors and other artists and inviting them to put the artwork back together to create a new presentation. He also curated Rami Farouk's solo exhibition titled From Al Majlis to the Bathroom, Satellite, Dubai.
Ayman Yossri Daydban is part of the permanent collections of the Guggenheim Museum, Centre Pompidou, British Museum, Al-Mansouria Foundation, the Abdul Latif Jameel Foundation, BASMOCA, the Salsali Private Museum in Dubai and the Greenbox Museum in Amsterdam.