BIOGRAPHY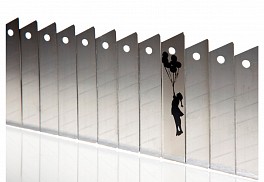 Born in Saudi Arabia in 1976 and grew to become an accomplished athlete who participated in many local and regional swimming competitions, winning numerous medals and becoming an national swimming champion. He later pursued his interest in art and photography and undertook several courses in oil painting and portraiture, design, sculpture, photography, Arabic calligraphy as well as interior architecture at Beit Alt-Ghouri, and was a student of fine art at Helwan University in Cairo, Egypt.
Abu Mismar recreates everyday objects as sculptures, with the intention of questioning the essence of their identity. Manufactured objects usually have a practical purpose and are created with the intention of making everyday life easier. Abu Mismar's sculptures challenge this perceived practicality and suggest that the objective of their creation is more symbolic than practical, and that they succeed in impacting our lives on a more subconscious emotional level.
Exhibitions:
2011 Art Marrakech, Athr Gallery.
2011 Al- Nama' and Al-Atta' exhibition, KhameesMasheet.
2010 Marasim Al-A'amal exhibition, Jeddah.
2009 Abha Cultural Award exhibition.
2009 Society of Arts and Culture exhibition, Aseer Mall.
2008 8th Armed Forces exhibiton.
2008 20th Saudi Contemporary exhibiton, Riyadh.
2007 Armed Forces exhibition, Southern province.
2006 Rigal Ma' Exhibition for Arts and Crafts ,Abha.
2006 Muftaha Village Arts and Crafts Permanent Collection, Abha.
2006 Commission for Tourism and Antiquities exhibition, Abha and Riyadh.
2006 Suwaydiyya Company exhibition.