BIOGRAPHY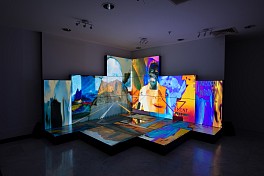 Mohammad Alfaraj's (b. 1993 in Al Hassa, KSA, where he lives and works), practice centers around his exploration of the relationship between forms and concepts, is visible through superimposed stories in his photographic collages, regrouping and contrasting fiction and non-fiction subjects. Alfaraj's work also often uses natural materials found in his hometown and combines them with children games and stories from people working the land, as an attempt to create states of co-existence between man and nature with an undertone of hope. A socio-environment activist at heart, his short documentary Lost, 2015 (which was awarded first place in the student category at the Saudi Film Festival), captures the latent state of the notion of temporality for the stateless Arabs living as refugees in their place of birth, and the dehumanizing effect this plays. This "un-homely" context portrays the poisonous beauty of nature when lived as a nemesis under political paralysis.
Alfaraj graduated with a BA in mechanical engineering from KFUPM in 2017. His recent solo show; Still Life and Plastic Dreams, Athr Gallery, Jeddah KSA (2020), and group shows include I Love You Urgently, 21,39 SAC, Jeddah, KSA (2020), Durational Portrait; A brief overview of video art in Saudi Arabia, Athr Gallery, Jeddah, KSA (2020), Sharjah Islamic Festival, Sharjah, UAE (2019). His work has also been shown at the Sharjah Art Foundation; Le Murate Pac, Florence (2019); Athr Gallery, Jeddah (2018); 21,39 Jeddah Arts (2017, 2019); Saudi Film Festival, Dammam (2015) and Dubai International Film Festival (2014). Alfaraj worked as a programmer in both the Saudi Film Festival and the poetry house festival in Dammam.
His work is in the collection of the Sharjah Art Foundation.