BIOGRAPHY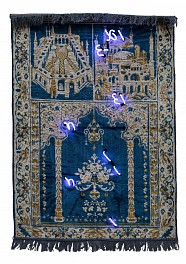 Sultan bin Fahad (b. 1971, Riyadh, KSA, where he lives and works) considers art as a journey between intangible memories and tangible cultures. Throughout his abstract drawings, paintings, sculptures and installations bin Fahad's central theme and object of concern remains material culture in his native Saudi Arabia.
In his practice bin Fahad reinterprets history, stories and narratives with the use of material culture; he transposes these narratives to contemporary means as a reassessment and personal take on Saudi Arabia. Themes central to his practice revolve around reimagining found objects, Islam and Saudi history and identity.
Connecting past to present, his stories evoke multi-layered journey(s) between the latent relationship of what is remembered and what remains silently contained within the corporeal.
Bin Fahad has presented a solo exhibition: Qounot,' at Alàan gallery in Riyadh, KSA [2016], and participated in several group exhibitions including: Dreams and Memory, Athr Gallery, Jeddah, KSA (2016). Tadafuq Jeddah, KSA (2017). Contemporary Art 014, Madina Art Center, Madina, KSA [2018]; Vantage Point, Sharjah Art Foundation (2018); Contemporary photography from the Arab world, American University Museum Katzen art center, Washington DC (2018); Sharjah Art Festival, Sharjah, UAE (2018); Winter at Tantoora, Al-Ula, KSA (2019); 45th Bahrain Annual Fine Arts Exhibition, Manama, Bahrain (2019).
Sultan bin Fahad's work was acquired by the Palestine Museum in 2016.