BIOGRAPHY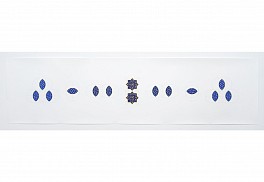 Dana Awartani is a Palestinian-Saudi artist born and raised in Jeddah, Saudi Arabia where she lives and works today. Her training draws upon contemporary and traditional modes of practice and thought. She first acquired her foundation degree in Art and Design at Central St. Martins Byam Shaw and then a B.A in Fine Art at Central Saint Martins College of Art and Design. During this rigorous contemporary training, she was drawn to explorations of traditional art forms, deconstructing their capacity to invest interpretation and meaning. This inspired her to purse a two-year Masters at The Princes' School of Traditional Arts, where she refined her skills in Islamic art forms and received a distinction for her work.
Influenced by these two diverse routes, her works are continual acts of revival, performances of contemporisation. Intricate manuscript illumination, parquetry, ceramics, stained glass, miniature painting, and mosaics are finely wrought examples of traditional Islamic art forms. She is furthering her practice and commitment to preserving these skills through the completion of an 'Ijaza' certificate – the highest form of recognition and authorisation to eventually transmit the skill of Islamic illumination.
Her pieces are firmly rooted in these traditional practices and she exclusively uses their methods, such as the use of materials and pigments she has prepared herself. Her series are, in their materiality and methodology, absolutely traditional, yet enacted in a contemporary moment.
In her finely wrought series, Awartani reveals and revels in the codified systems of Islamic geometry. She maps such systems, exploring how these diverse artistic disciplines hail from broad religious and cultural contexts. In doing so, she extrapolates a perennial divine philosophy which is embedded in these practices. In the revelation of these processes, she engages with the meditative allure of the form's purity, deconstructing contemporary systems which have become loaded with faulty power. In Awartani's skilled practice, Islamic geometry's active capacity for divine connection becomes an infinitely contemporary and entirely timeless act. The revered Islamic scholar Seyyed Hossein Nasr explains, "as Plato said, 'beauty is the splendour of truth'. Traditional art provided this beauty on the external, formal level, which itself acts as a support for the attainment of inner beauty. This art also speaks, often in silent language, of the truth whose attainment constitutes the very raison d'être of human life." In the same way, Awartani's revival of the art form has an intercessional effect that is both divine and historic. She deconstructs faulty contemporary systems by returning to and retracing processes from origins.
The transmutation of these revived truths is also completed through national outreach projects in schools and communities.
Dana is keen to revive historical techniques of traditional art which is struggling to survive in the modern world. She completes national outreach projects throughout to schools and communities in order to further the appreciation of the traditional arts. She has exhibited her work in many international exhibitions including Rhizoma at Edge of Arabia, Venice Biennale [2013], Show of Faith at Katara, Qatar [2013], Moallaqat at 21,39 Jeddah Arts [2014], Art Basel, Hong Kong [2015] , Safar at 20,139 Jeddah Arts [2017], Exhibition 1 at the Institute Arab & Islamic Art in New York, USA [2017], and I Went Away And Forgot You…at Franco Noero Gallery in Torino, Italy [2017]. She was also exhibited at the group exhibition Letters at ATHR in Jeddah, SA and also recently Shift at The Mosaic Room in London, UK part of Shubbak Festival [2017]. She had a solo presentation at Art Basel Hong Kong 2016.
She participated in the 6th edition of the Marrakech Biennale, Morocco [2016], the 1st edition of the Yinchuan Biennale, China [2016], the 3rd edition of the Kochi-Muziris Biennale, Kochi, India [2016], and the 2nd edition of the Jakarta Biennale, Jakarta Indonesia [2017].
Awartani's work is collected by Sheikh Zayed National Museum Abu Dhabi, The Farjam Collection, The British Museum and other private international collections.