BIOGRAPHY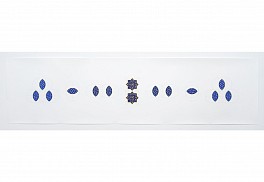 (Saudi-Palestinian b. 1987, Jeddah, KSA, where she lives and
works) oeuvre aspires for the revival of traditional geometric figures of Islamic
illuminations, enacted in the contemporary. A multitude of methods and mediums
such as performances, intricate manuscript illumination, parquetry, ceramics, and
embroidery, though with the constant base of her own pigments' preparation, come
to reinforce her concept. Her practice stands within deconstruction, reinterpretation
and repetition of a sign system, revealing immutable patterns with the intention of
demonstrating the structure of meaning.
Works such as And Your Lord You Should Glorify(2016) – a palindromic piece –
instigate a literal "running backwards" leading the viewer from their present, into
the heart of the eternal and hermetic order. The palindromes are part of an
ongoing direction, experimenting with the development of codes. The artist obscures
and elucidates interior meanings, converting each letter of a sentence into their
numerical value using the Abjadia system. Kaleidoscope-like, she maps unity as a
fundamental Islamic principle – that of 'tawhid'.
Traditionally trained at the Prince's School of Traditional Arts, she received her
Masters after her BA at Central Saint Martins. She is currently furthering her practice
and commitment to preservation of the Islamic illuminations skills through the
completion of an 'Ijaza' certificate, in order to be eligible to transmit these skills.
Awartani's recent group exhibitions include:
Miniature 2.0 Pera Museum, Istanbul (2020),Intimaa: Belonging, UAE Unlimited, Abu Dhabi, (2020), Al Burdah Endowment, Abu Dhabi (2020),Imagined Communities, 21stBiennial Videobrasil, São Paulo, Brazil (2019),Zamakan, Ithra, Dammam, KSA (2019); Unsettlement, Monash University Museum of Art, Melbourne, Australia (2018); Shift,The Mosaic Room, London, UK (2017); Cities of Conviction, Utah Museum of Contemporary Art, Salt Lake City, USA (2017); Exhibition 1, Institute of Arab & Islamic Art, New York, USA (2017); 21,39 Jeddah Arts (2017); Take Me [I'm Yours], Jewish Museum, New York (2016); Rhizomaat Edge of Arabia, Venice Biennale (2013); and Show of Faith, Katara Art Center, Qatar (2013). She participated in the Rabat Biennale, Morocco (2019), the Jakarta Biennale, Indonesia (2017), the Marrakech Biennale, Morocco (2016), the Yinchuan Biennale, China [2016], and the Kochi-Muziris Biennale, India (2016).
Her solo exhibitions include: The Silence Between Us, curated by Laura Metzler, at
Maraya Art Centre, Sharjah, UAE. (2018); Detroit Affinities: Dana Awartani, Museum
of Contemporary Art Detroit, Detroit (2017); and The Hidden Qualities of
Quantities, Athr, Jeddah (2015).
Awartani's work is in the collections of the Sheikh Zayed National Museum Abu
Dhabi, The Farjam Collection, The British Museum, The Hirshhorn Museum, The
Guggenheim Museum, among others.