BIOGRAPHY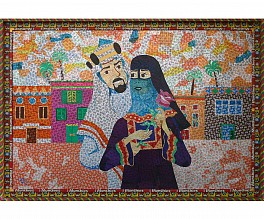 Born in 1979 in the city of Medina, Ghada Al-Rabea studied Home Cconomics and Fine Arts at the local Taiba University. She continues to teach these subjects at schools and organizes various art workshops.
She has been an active member of the Medina art scene, has exhibited in numerous shows locally and has exhibited at Athr Gallery in Jeddah for the first time in 2013 as part of their annual 'Young Saudi Artists' exhibition, and most recently took part in Moallaqat, the inaugrational exhibition for the first edition of 21,39 Jeddah Arts [2014]
A blogger once wrote "If many people think that the Abaya hinders Muslim women's development and dreams, they should have a broader vision and a closer look at Muslim women in general, and at Saudi women in specific". This sentence applies to no one better than it applies to Ghada Al-Rabea.
Her representations that capture the details of Saudi daily life show a love of her country and strength of spirit. Her technique of using candy wrappers instead of traditional paints give her work a kitsch element that echoes the sweet innocence of the simple life, one that cannot help but resonate with the viewer.