BIOGRAPHY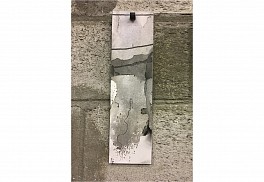 Mhannad Shono (b. 1977 in Riyadh, Saudi Arabia) pursues a multidisciplinary and curious practice that is in a constant state of interrogation of what lies beneath the surface of our existence.
From video to robotics, ink on paper and the sculptural, Shono's work reflects the multiplicity of his personality and his life experiences as an uprooted being with mixed origins, exploring questions on the evolutionary line of the human species.
Moving from architecture, to advertising, comic illustration and more recently an acknowledged artist, he hovers between his past and current worlds as first and foremost an avid storyteller, to him, it all starts with the story and evolves into meaning. Through his work we are faced with the numerous interpretations left for us to unearth, touching religious and cultural myths intending in pushing the viewer to understand how the past can dictate human narratives we abide by.
He was selected to partake in residencies in Europe including Kunstresidenz, Bad Gastein, Austria [2017]. Artists-in-Labs, Zurich Switzerland [2017], and is currently conducting a yearlong art residency at Künstlerhaus Bethanien, Berlin.
Muhannad's work was acquired by The British Museum in 2017 and the Art Jameel Foundation in 2018.